I want to lure the boys back. I feel lately like I am be alienating any male readership that may have been interested in my blog once upon a time. And by this I mean straight male readership (which is even less likely to have existed). Also, I feel bad for only objectifying men in the last few posts - it's about time women were objectified for once! Those bitchez get let off so easily.
Anywaylet'smoveontothehotties, this is a selection of gorgeous ladies that I have meticulously researched. I may have pressing matters like a thesis to write (pfft, whatevah) but finding pictures of hot girls on the internet instead of getting First Class Honours is a sacrifice that I am willing to make. So here they are. My ultimate bevy of beauties. There is no order, but there is quite a bit of variety. I not only like blondes and brunettes but - and I know this is crazy - I even love redheads. Some of these choices may seem totally random, but I can't deny my heart.
Ok, here we go. We have a lot of hoes to get through.
Angelina Jolie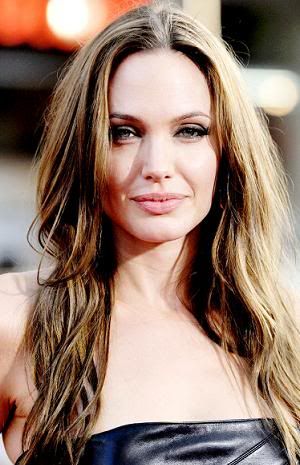 DUH. I am the most pro Team Jolie person you have ever met. Even more than Brad Pitt because unlike him, I NEVER liked Jennifer Aniston. Angelina foreverz <3
Lady Gaga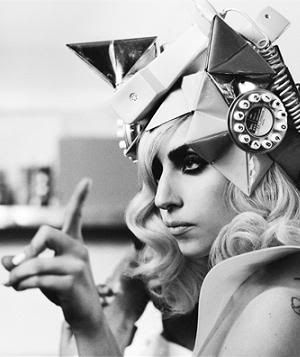 Gaga is my hero. I love everything about her. My love is unwavering and I am proud to call myself a little monster. And she is the fiercest bitch ever. Also, did you see her crowd surfing at Lollapalooza? I'm just puttin' this out there, but she's got a pretty great rack. Good for her.
Cate Blanchett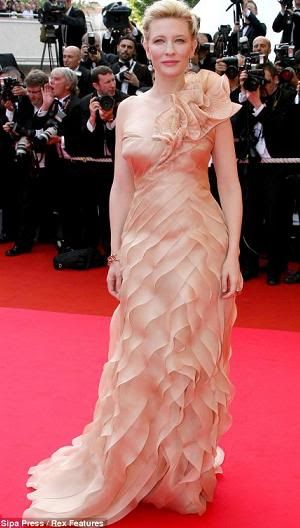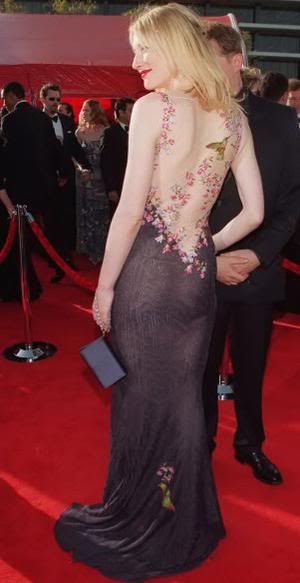 Am including this second pic also because seeing her in this dress was the first moment I fell in love with the great Cate. The back detailing took my breath away, and since then, she has never ceased to do so.
Emma Watson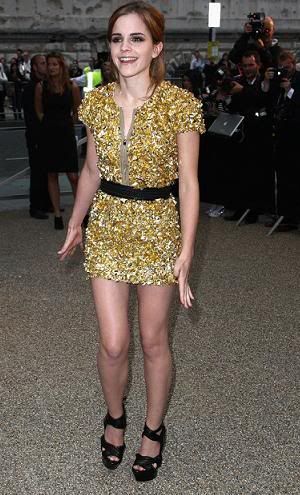 I like her new pixie cut I guess (even though Carey and Mia are already Hollywood's pixie cut girls) but I remember DYING over this outfit at the Burberry show. Hermione's all grown up! And she's a hottie!
Carey Mulligan
Speaking of Carey, look at her in all her gorgessity. Divine. Also: loooved her Oscars dress. It looked pretty ordinary at first but all the little jewels sewn on were tiny little tools (like hammers and shit). I like that she's stunning and always a bit quirky, without being contrived. It's a fine line you know.
Whitney Port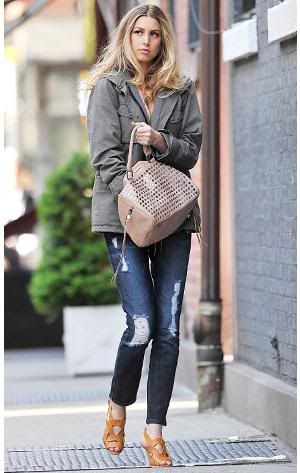 Whitney always looks amazing so this choice of image is probably puzzling. However, I picked this one to illustrate that the gorgeous Whitney, even when running errands around NY, always looks like a total babe.
Agyness Deyn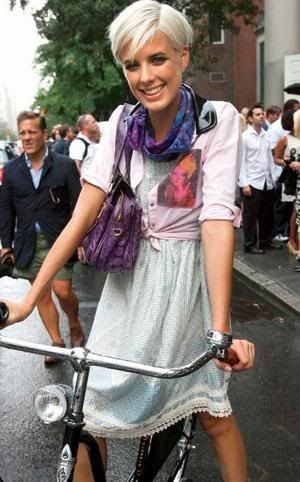 One of my FAVOURITE models of all time, I love Aggy to the ends of the Earth. But with blonde hair. The black bowl-cut was not workin for me. Awe but look at that face...I can forgive her anything.
Julianne Moore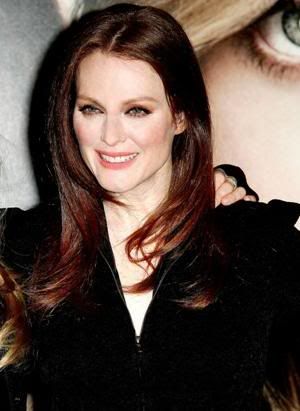 Jesus fucking Christ would you look at this woman? If I could choose my features, I would be fair-skinned, blue-eyed and a redhead. Like, Julianne's gorgeous dark auburn. Sometimes I feel like Julianne Moore's too beautiful to look at. And then she opens her mouth and she's self-deprecating and funny and can act...total package.
Michelle Williams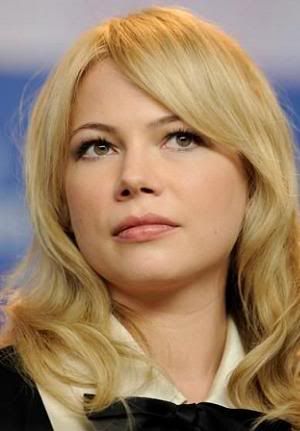 Jen Lindley had some serious hair issues, but then Michelle blossomed into this gorgeous creature before my eyes. She looks like a painting. A pretty, delicate, beautiful painting.
Beyonce
Um, yeah. Fair to say this is my favourite part of the "Telephone" video. I die.
CHELSEA HANDLER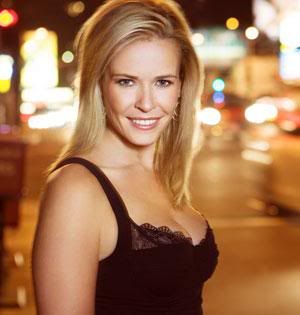 I've recently become obsessed with Chelsea. It started off innocently enough with some youtube clips of her interviewing some of my fave celebs, to reading her books, to full-blown obsession. I love her. And I love that she is banging Dave Salmoni. GOOGLE HIM, TRUST ME. And then go watch her interviewing him on youtube. Cuteness overload. Lucky bitch.
Clea Duvall
I'm guessing this one's a bit random to most of you...Clea has been in "She's All That" and "Girl, Interrupted" so she's probably that girl who's face you know but never cared enough to look up her name. Neither did I. Until "But I'm a Cheerleader" when I fell, hard.
Clemence Poesy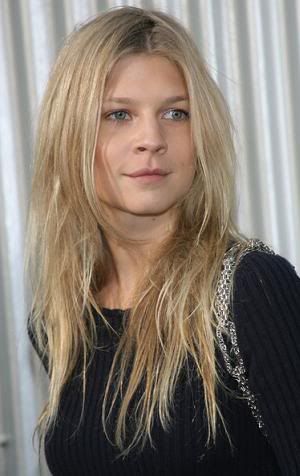 Such is my love for Clemence that when I heard that SHE was the one playing Chuck's new love interest in Gossip Girl, I totally didn't even care that he had a new love. (Well I do, a bit. I hope it's not love. It better just be a Summer fling and then he runs back to Blair or my precious little heart won't be able to take it). Still, I don't mind having the opportunity to look at Clemence in pretty clothes. Sigh. She's so French.
Kaya Scodelario aka Effy from 'Skins'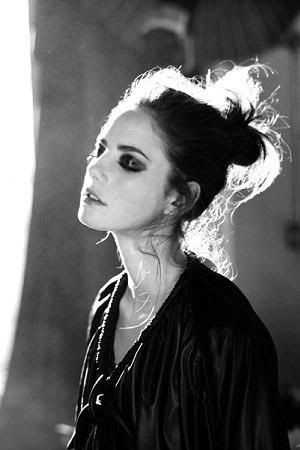 I kinda hate Effy but damn she's hot. She's old enough to say that about right? I mean, she's had sex scenes, she must be legal...right?
Kristin Cavallari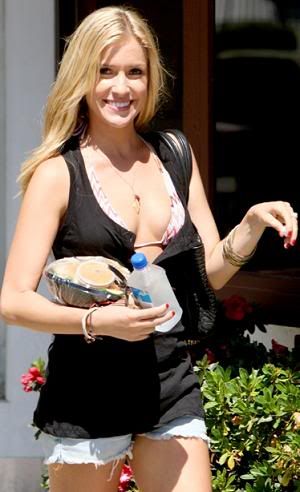 Loved her since "Laguna Beach". She is funny, hot and not retarded like LC. Sorry, Huna. I really want to hang out with Kristin; she seems like the funnest chick ever.
Kristen Stewart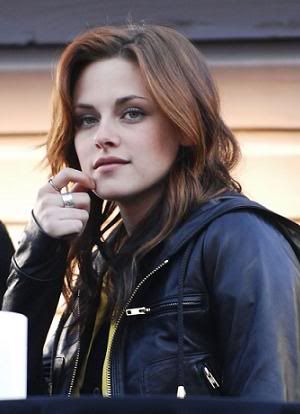 As shit as she is as an actress, I just can't hate on someone this hot. It's not in my nature.
Sienna Miller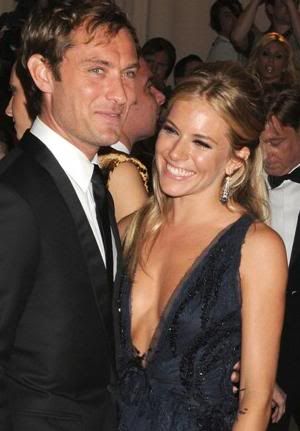 Sienna has always been bangin' but I feel like she is at her prettiest when she is with Jude. So much hotness emanating from this picture, non? Love.
Rachel McAdams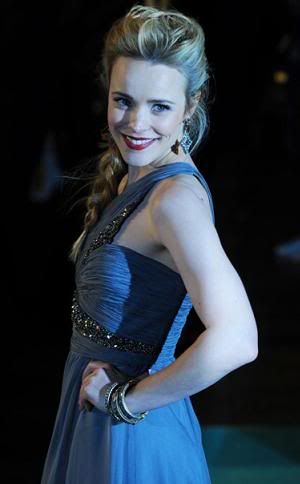 A funny babe who can act. WHAT MORE COULD YOU WANT? Oh, and she dated Ryan Gosling. She obviously has something going for her.
Freja Beha Erichsen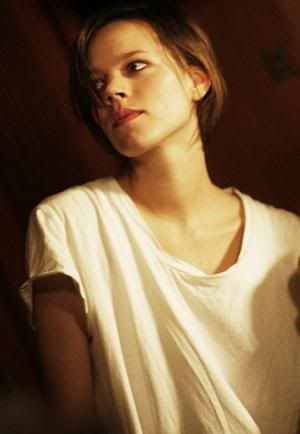 Possibly my favourite model, now that Gisele went and fucked herself with all her bullshit baby talk. Also, Freja makes out with girls a lot (being a lesbian) so she's even cooler coz she's gay and gets to mack on all the hot 'curious' models she works with.
Eva Green
Yeah, Eva gets a few pics. I just really wanted to make sure you appreciated all of her...talents. Oh and did I mention she's French? I feel like she is the epitome of the other type of French woman, compared to Clemence Poesy. I had this conversation with my dear friend Maca a few weeks ago, who incidentally is also a hot babe (http://flyaroundmyprettylittlemiss.wordpress.com/): I feel like French women fall into two main (banging) categories: blonde, a bit rumpled, ethereal and wear quirky but cool clothes (Clemence) or brunette, vampy, and totally sex on legs (Eva). Oui?
Eva Amurri
Susan Sarandon's daughter first got my attention in 'Saved!' where she was a hot badass who wore a lot of short skirts. She kept my attention through her stint on 'Californication'.
Emma Stone
Adored her in the 'The House Bunny' and am now anxiously awaiting the release of 'Easy A'. This movie looks ridiculously awesome. Check out the trailer here if you haven't already seen it (why haven't you already seen it?) http://www.youtube.com/watch?v=DL7W6pEuAW0
Emily Blunt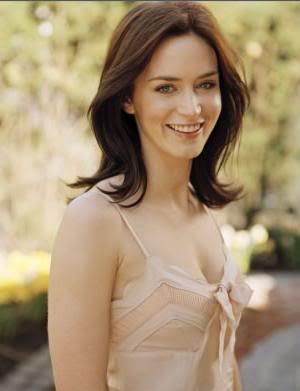 BEFORE 'The Devil Wears Prada' and 'Queen Victoria' Emily was in 'My Summer of Love' and was divine in it. She's a brilliant actress, she has a hot British accent, and she is so pretty. Emily, let's be friends?
Ellen Page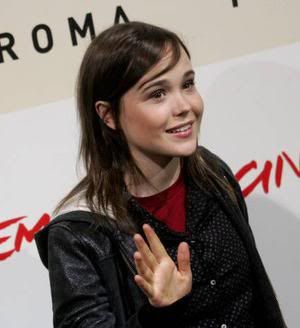 Pint-sized gorgeous awesomeness. Another promising young actress. When it seems like a dismal time in Hollywood with the Paris Hiltons and the Heidi Montags, a gem like 'Juno' comes along and reminds us that all will be right with the world.
Kat Dennings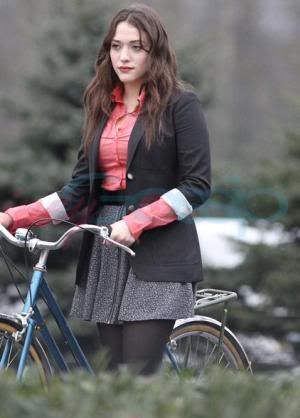 'Nick and Norah's Infinite Playlist' has become one of my favourite movies and I didn't even like it the first time I saw it. I think it's the sweetness of Kat and endearing naivety of Michael Cera that does it for me. Also, look at those lips!
Dita von Teese
From sexy minx...
...to elegant lady, Dita covers all bases and does it while looking flawless.
Chloe Sevigny
This image does her NO JUSTICE whatsoever, but she is amaaazing in "If These Walls Could Talk 2". Amazing, and super hot. Her and Michelle Williams play loverz. 'Nuff said.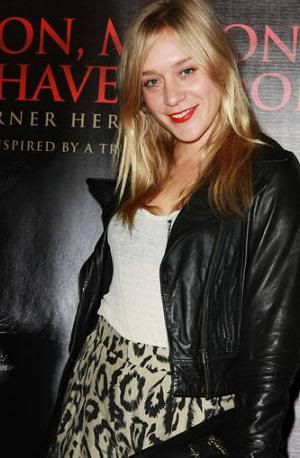 Well, nothing but this. I would kill for her wardrobe. And then I would kill to be able to pull it off like she does.
Tasha from 'The L Word'
Her real name might possibly be Rose Rollins, but who cares when she is so hot as Tasha. Seriously. Season 4. Tasha and Alice. Yes man.
Samantha Mathis
Hehe. I feel like my undying love for Samantha will never be understood because nobody on the planet seems to remember who she is. Not only did she play old Amy in 'Little Women' but she was also in one of my all-time favourite movies EVER 'Jack and Sarah'!!! Again, nobody else seems to have seen this. She plays a nanny for Richard E. Grant's daughter and ends up falling in love with his character and oh my god, again, one of my all-time favourite movie couples. This movie also has Sir Ian McKellen in it, WHY HAS NOBODY SEEN IT? Oh, and she is the voice of Crysta in 'Fern Gully'! Why don't more people love her?!
Ruby Rose
Rawr. Total lady-crush. Sadly, this picture does not show her gorgeous blue-green eyes but it does perfectly translate The Hot.
Rihanna
I prefer her with shorter hair, but let's be honest: nothing beats a hot chick in her underwear doing housework, am I right? Seriously though, I love Rihanna so much I wrote an essay about her at uni last year. Funnest essay research ever.
Penelope Cruz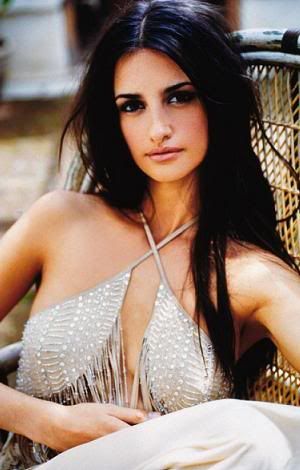 I'm not gonna lie...I previously never saw the appeal of Pene. Not until 'Vicky Cristina Barcelona'. Seriously, memo to Penelope Cruz: you should only ever speak Spanish.
Marion Cotillard
Oh lady, you are so pretty. And French. And pretty. Also, I love you every time you step onto the red carpet, especially when you wore a bodysuit that one time and still looked bangin'. Clearly, she falls into the "brunette, vampy, sex-on-legs" category of French woman.
Natalie Portman
Gorgeous, smart, funny, talented and looks good with a shaved head. Natalie may or may not be Perfection.
Natalie Maines (from the Dixie Chicks)
I don't know what I'd do if I ever were to actually meet Natalie Maines. I'd probably cry and/or faint with joy. If you've seen 'Shut Up and Sing' the Dixie Chicks documentary, you probably understand. I watch it all the time, especially when I need something to remind me I can be strong and am still in awe of her. Natalie is probably my true hero because she is so goddamn inspirational and amazing. My motto in life tends to be W.W.N.M.D.? (What would Natalie Maines do?)
Noomi Rapace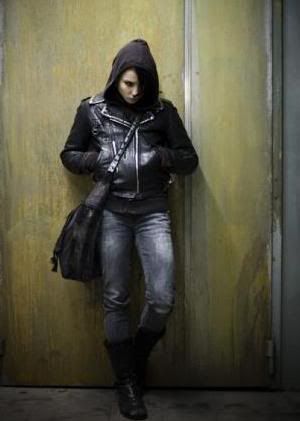 There is an English version of 'The Girl with the Dragon Tattoo' being made. Because apparently Hollywood/American audiences
really
hate subtitles and don't consider it a real film if it's foreign. They shouldn't bother though because Noomi totally nailed it. Love her.
Missy Higgins
Ah, an old-time obsession. I haven't seen her around for a while but the affection still lingers.
Ladyhawke
Not only does she write catchy and fun pop songs but Pip Brown is also totally hot. I know, because I've met her. And she is tiny and gorgeous and lovely.
Tina Fey
She don't need no explanation.
Liv Tyler
Curvy, ethereal, gorgessity. I feel like she's some sort of hot alien girl...too good to be human.
Uh Huh Her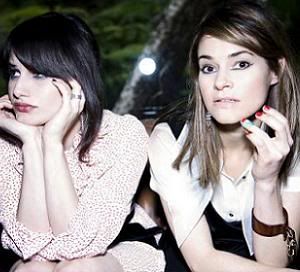 I first came across Leisha Hailey (right) in 'The L Word' and discovered she could not only be funny and adorable as Alice, but could also SING and was in a band with the equally adorable Camilla Grey (who is in a relationship with Clea Duvall, who I already mentioned). Check em out, they are rad.
Christina Hendricks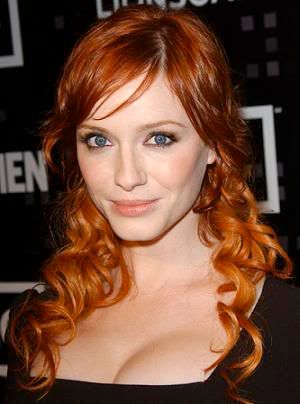 If you don't love Joan...just get the fuck out. Voluptuousness and red hair never looked so good.
Alexa Chung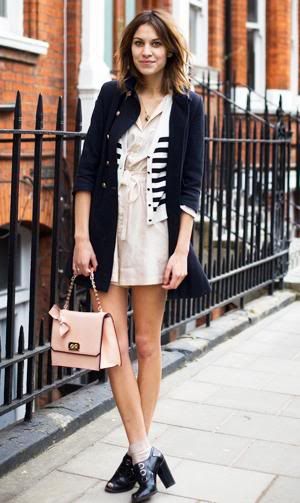 I still think Alexa's a total babe but she's starting to irritate me. She always has the same facial expression and doesn't really do anything. But who cares coz she's pretty.
Daria Werbowy
What an ass. And you know, everything else. One of our generation's greatest supermodels.
Kate Moss
But Kate is, and always will be,
the
greatest.
Claudia Schiffer
Claudia is also pretty fine.
Natalia Vodianova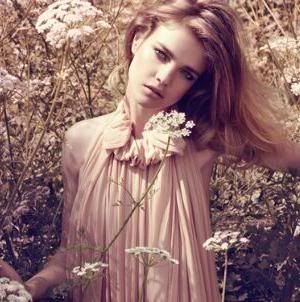 As is Natalia. Who has had like 3 children. Bitch. But you can't even call her a bitch, considering all the charity she does. Bloody hell I feel lazy.
Gwyneth Paltrow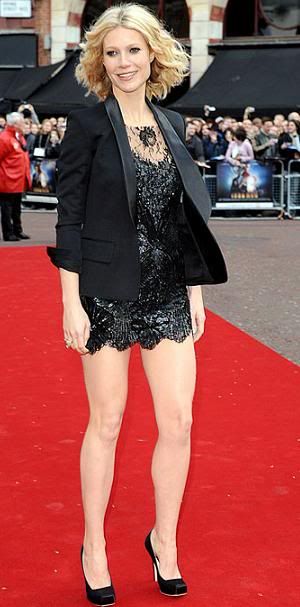 Remember this press tour for 'Iron Man' when Gwyn debuted those amazing legs in a parade of hot short black dresses??? She blew me away, she rocked those minis so hard. I mean, she can be irritating...with her GOOP newsletter, two cute kids, privileged upbringing, that body, her famous celeb friends...but I can't hate on her because she is essentially living my ideal life.
Diane Kruger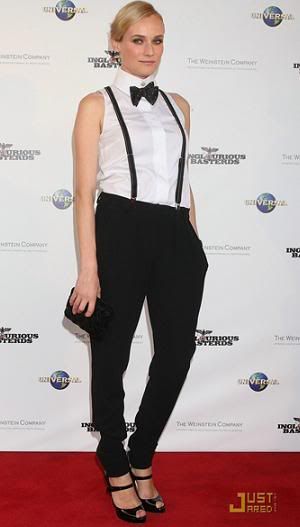 It was tough choosing a perfect image of Diane. I mean, this one has cool suspenders and she looks like a hot bitch...
...but this one has everything else.
Isla Fisher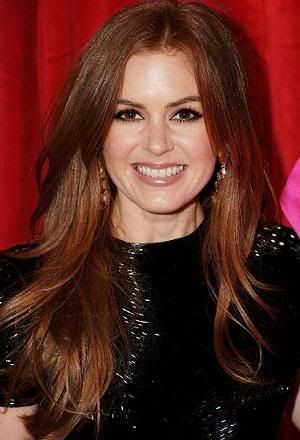 Who would've thought that Shannon from 'Home and Away' would end up an A-lister in Hollywood and married to Borat? Not me, but I love that it happened.
Tegan Quin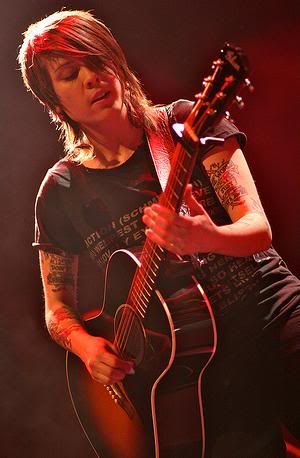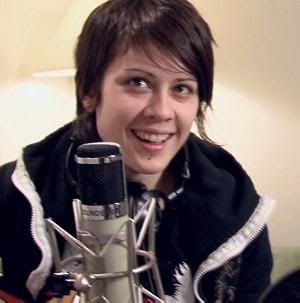 Once my number one...I still obviously think Tegan is amazeballs, but rather than want to marry her and be with her forever and ever I'd be content with a quick fling, and then a longer-lasting special friendship, you know what I mean? Because she's still rad. I just have a new number one.
Which brings me to my final two. I simply could NOT narrow down the images of these gorgeous ladies. I love them and you just have to deal with it.
Kate Moennig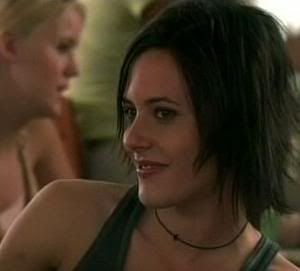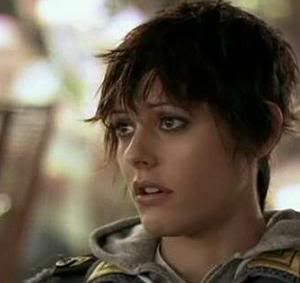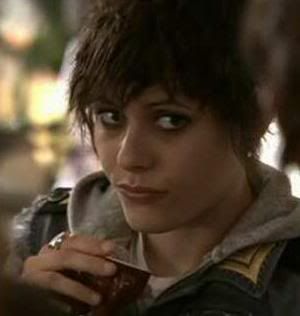 Not just another 'L word' hottie but THE L Word hottie!!! Kate plays sex-bomb Shane and I love her. Could you imagine if she turned her gaze on you and used all her magical powers? I think I would pass out. Also, Gwyneth Paltrow is her first cousin! Talk about hotness pedigree!
And finally, my all-time #1...
Sara Kiersten Quin
Har har, yes she is Tegan's identical twin sister (from Tegan and Sara - my favourite band. You may have heard me mention them) but she is so much more than that. My love used to be for Tegan but then one day I just got it... All of a sudden Sara had better hair than Tegan, I laughed more at her jokes, I started listening to her songs more and more, I lingered on images of her for longer...I converted. I feel like the following collection of photos captures the many reasons why I did indeed switch sides.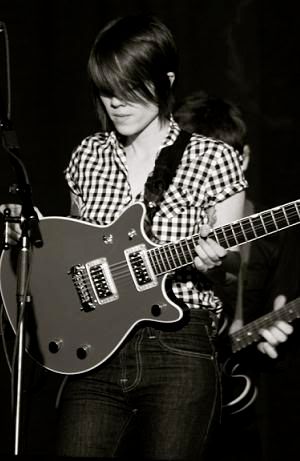 (after one of the shows where I met them, Sara gave me one of her pics. This is what she does with them. The pic has now been converted to a necklace. I will treasure it always)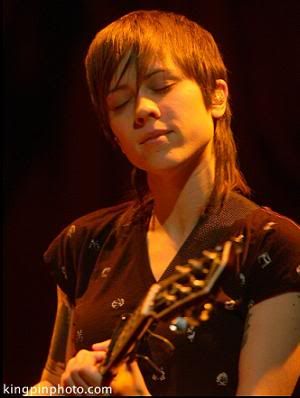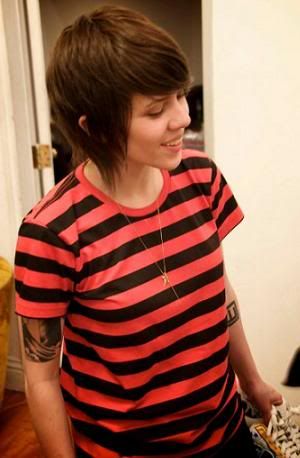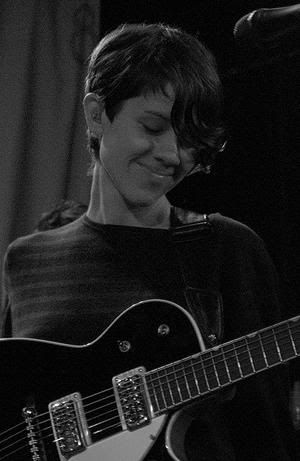 Sara and me say byeeee!
Hope you enjoyed lads and ladees.