Beauty products. We all use 'em. We're all always on the lookout for The Best. As in, "I just discovered the best mascara EVER! Not clumpy, 300x your natural thickness, long luxurious lashes and then it buys you a drink and makes you dinner!"
Ok, so there's like three people on the planet who care what stuff I use in my daily upkeep (you don't even want to know what it looks like without any of this shit) but still, there are people. I get asked somewhat occasionally for product recommendations and so far have a 3/3 success rate. Count it bitchez, that is 100%. I am about to cover all bases (so to speak): skin, eyes, cheeks, lips, nails, hair. These are the best of the best in my own humble opinion. Let's roll.
Skin

QV Face Moisturiser. Before you do anything else, you need a primed, healthy base. This stuff is cheap, long-lasting and easily accessible (check your local pharmacy). I have extremely sensitive skin, dry-normal (even occasionally oily in Summer) but this moisturiser does the trick. It is hydrating and has SPF and I actually quite like my skin, which says a lot for someone with severe esteem issues (believe it or not). (I know I'm using a lot of parentheses - this will decrease now that I am aware of it).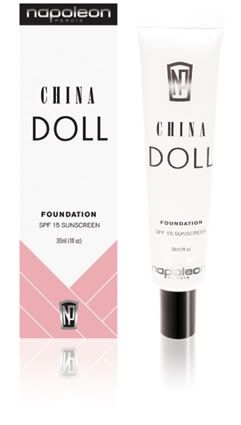 Napoleon China Doll foundation. I'm not a huge fan of Napoleon cosmetics apart from a strong eye shadow every now and again, but China Doll works for me. It gives me a pretty flawless finish without being too cakey. I have heard varying opinions on this, but I personally love it. I use the lightest shade available - Look B1 - and it blends perfectly and provides good, even coverage. For me.
If I know I'm getting photographed, or my makeup needs to last a while (or I have a crush on someone and really, really want to look my best) I finish my foundation with Estee Lauder's Lucidity translucent powder. It has been my favourite discovery in the past year. It helps 'set' your makeup and take away any excess shine that is so unflattering in photos. Love it. Also, it comes in pretty packaging: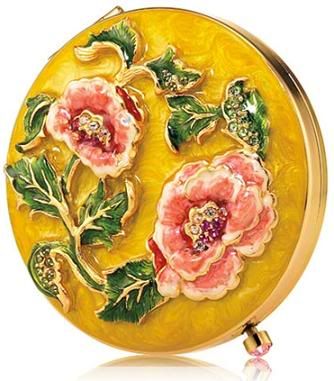 Sooooo pretty!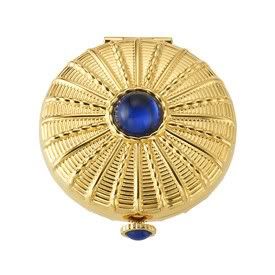 This is the one that I have. I like it so much I even reapply it in public. Talk about a social faux pas. N.B.: You can buy refills when you run out, you don't have to purchase a pricey new compact each time. But by all means, do collect the pretty cases if you please.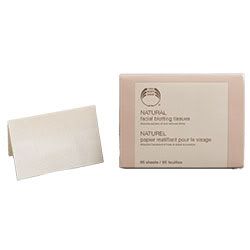 The Body Shop facial blotting tissues. Special shout out to my aunty Helen for this discovery. Last year on the night of my 21st birthday party it was like 100 degrees outside so my aunty bought me these to blot away sweat and oily residue for photos. They worked a charm and now I can't survive Summer without them.
Johnson and Johnson's 3 in 1 facial cleansing wipes. The easiest way of removing makeup and looking after my skin. I am a lazy ass but even I can manage using these wipes while drunk. Plus, you only need one, even if you wear as much makeup as I do.
Eyes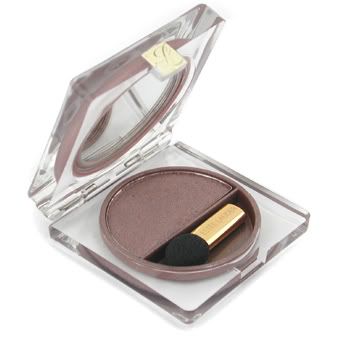 Estee Lauder eye shadow. I am a huge fan of Estee Lauder's range of eye shadows. They are a bit pricey but last forever (and I use them
a lot
). Nice range, you can always find something on-trend mixed in with classic gorgeous colours. Also, the pigment is strong so you can layer a dark colour and get a really smokey eye quite effortlessly. Swoon. TIP: Put foundation on your eyelid first to help your eyeshadow stay in place.
MAC eyeshadow quad in "Smokey Lady". Possibly my smartest purchase ever. This is the most amazing collection of colours I have ever come across in an eyeshadow palette (you know there's always those two shit colours you never use). The light pink is the perfectest shade of light pink, the silvery grey has the most complementary amount of depth and shimmer and the dark brown works perfectly with a smokey eye and doubles as eyeliner. The blue is just super pretty. If you see it, get it, it's the palette you take when you don't want to lug around bags of makeup. An all-rounder if ever there was one.
NYX eyeliner. No, this is not a joke. It is like $2 and it is my pencil eyeliner of choice. It's a soft pencil, it's dark, sharpens easily and smudges nicely if that's what you fancy - and I often do. Don't be fooled by the price. It works well.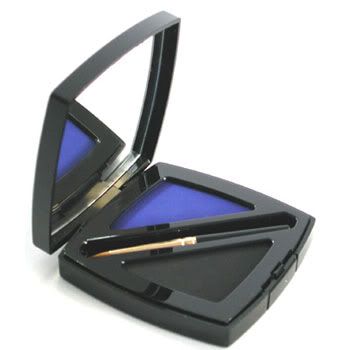 La Ligne de Chanel. My favourite and easiest makeup look so far in 2010 is a natural eyelid, cats-eye eyeliner, loads of mascara, blush and nude lipstick. Ergo, the prefect application of eyeliner is crucial. Using this makes it pretty much impossible to fuck up. Just wet the brush, test on your hand, and go nuts. It takes about 3 minutes and people almost
always
comment on how perfect it looks. I find eyeliner very difficult to apply and get right but it's almost impossible to go wrong with this. Worth the price (but try strawberrynet.com to get it cheaper).
It also now comes in this colour, which I am totes purchasing when mine runs out. I never use the blue anyway.
Rimmel Max Volume Lash Mascara. Got hooked on this baby this year. It gives me the thick lashes I so covet, plus makes them longer. Two coats is more than enough for my obsessive quest for 60s lashes without using falsies. P.S. Any suggestions for the perfect falsies?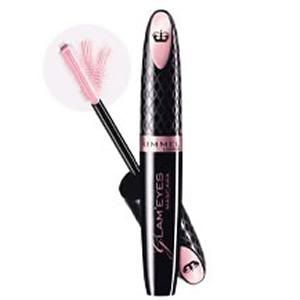 Rimmel Glam Eyes in Brownish Black. This, on the other hand, gives a much more natural look. It lengthens and defines lashes but doesn't look too makeup-y and seemingly cannot clump. I like.
Cheeks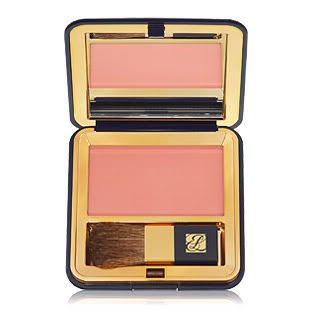 Estee Lauder blush - any colour. I use a blush palette and it gives me a great flushed look. The pinks are pinky without being 80s and you can apply the colour in layers so you don't all of a sudden look like a clown.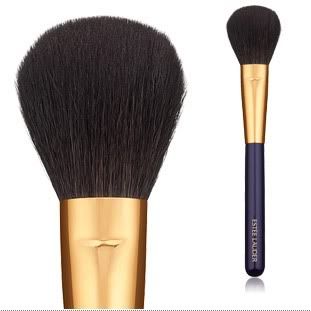 Estee Lauder blush brush. I can't even tell you if this is the best or not, because I've never ventured to try another since I first stole my mums. Invest in good brushes!
Lips
Kiehl's lip balm. Duh. It's a classic. It's the lip treatment equivalent of a little black dress and for good reason. Gives you very soft lips, with a very soft sheen, and minimal odour - unless you get a flavoured one. Win.
Kit lip sheen. Another great lip treatment from my own personal worship site, Kit cosmetics (easily found in Myer). IT TASTES LIKE MINT AND GIVES YOU MINTY FRESH BREATH BY DEFAULT. Also, it tingles. The tube doesn't last long though because if you're anything like me, you will obsessively reapply in order to feel the TINGLE. You can also get one with a pink tint. I have that too.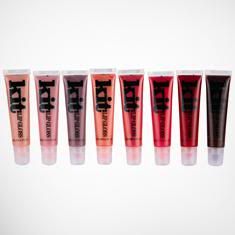 Kit lip gloss. I don't really wear lipgloss much anymore, but when and if I do, it has to be Kit. These babies come in divine colours and have a toned-down version of the minty tingle that you will find in the lip sheen/treatment.
Poppy King Lipstick Queen lipstick in Saint Pink (available through Kit stores). THANKS JESSIE FOR INTRODUCING ME TO THIS ONE. This was the first lipstick I regularly started using to replace lipgloss. This lipstick range comes in two versions: Saints and Sinners. Each colour is available in both a Saint and a Sinner version. Basically the Sinners are more opaque and dark and the Saints are slightly more sheer and day-friendly. But I wear mine all the time. It is the perfect pink lippy.
Bobbi Brown lipstick in Uber Pink. This one sounds very pink (get it?) and you are probably questioning my sanity and being all "woah, woah, woah Aph - what is with two pink lipsticks in a row? How many 'bests' are there??" But chill my peeps. This is the best 'natural' lipstick I have ever tried. It almost seems like no colour - it just enhances the lip colour you already have. Wear with Rimmel Glam Lash in Brownish Black for example.
If you're still with me, hang tight, we're almost at the end.
Nails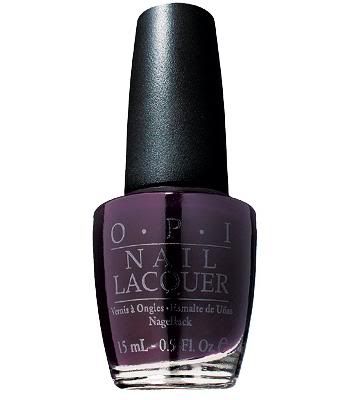 OPI's Lincoln Park after Dark. The best dark purple I've ever worn. Goes on easily, always looks flawless, and fulfills my obsession to have the perfect dark tips. It reminds me also of when I was a punk.
Dur, I've mentioned these before. Kit nail polish in Go Getter and Go Out. Gorgeous coral shades and yes, you do need them both. The lighter one is a lovely pastel with a hint of coral and the other is just a super pretty bright (but not fluro) coral. Love.
Oh and I couldn't find a pic of it, but for the perfect pale, pale pink that doesn't make your nails look white and goes on super smooth: Kit's Quick Step will do the trick.
Hair
GHD hair straightener. This is not a secret. This is the Holy Grail. Straight, curly, loose waves, it does it all. I value it more than my most important bodily organs. I lent it to someone recently for a full three hours and my breathing did not resume to it's normal pace until three hours after I'd gotten it back. My hair, to some, looks natural and unstyled but trust - I have never left my hair in it's natural state since I was 13. And never plan to. Once my straightener broke and even though my hair did not need styling for a few days at least, I replaced it within 8 hours.
Dove Heat Defense Therapy Shampoo and Conditioner. However, because I abuse the shit out of my hair, it is important to protect it. Dove does the trick. Since I began using this shampoo I even stopped using a finishing shine cream I used to think I could never live without. PLUS I recommended it to a lovely lady on the weekend who had also abused her locks and she saw amazing improvement after the FIRST WASH. I've seen the pics, it's magic.
Toni and Guy Iron It Heat Defense Spray. Occasionally the day after I have straightened my hair I also choose to curl it in order to achieve that model off-duty natural wavy look. I feel bad for my hair then so I use this on dry hair (duh) before I curl it.
For the observant among you, you may have noticed a huge gaping hole in my Best list. The Best concealer is indeed missing from this blog. I have yet to purchase this magic concealer that I have heard so much about - not because I don't think it works (I've tried it, it is amazing) but because I'm afraid to get addicted to it and then not be able to afford replacing it consistently. See, everything I've mentioned here is pretty long-lasting so I don't mind splashing out. But this concealer is something I would use every day, it's that good.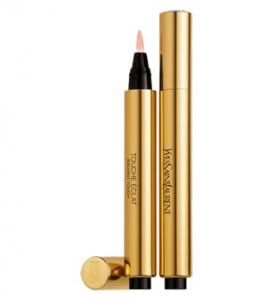 YSL Touche Eclat Radiant Touch. If someone were to give me a lifetime supply of this, I would give them a lifetime supply of gratitude. Just sayin'.
Hope that was helpful x