Feat. Burberry. Wedges. Nicholas Kirkwood.
Lately thoughts of shoes have been weighing heavily on my mind. Desire, lust, indecision, greed...all powerful, pervasive emotions tugging on my soul. Not only do I want so many shoes, but I don't know which ones I want to buy. I don't realistically know what I can afford because I don't know what my work shifts will be after next week. Or if I'll have a job next year after graduating uni.
I also don't know what I want simply because I just can't make up my mind. Somewhere in the last six months I seem to have lost all ability to make my own decisions about what to buy/what is fierce. Buying my birthday dress ALONE in the middle of the CITY was torture. Tor-ture. Like, it was fine, the dress was great, it was Kirrily Johnston and I found bangin' Miu mius to go with it. And yet I almost tore my hair out trying to make a decision. Sigh. I gotta get my own will back and stop haranguing my cousin Anthea over every possible purchase.
Speaking of Anthea, I want all you bitchez to go and buy InStyle this month (Anne Hathaway is on the cover). Why? Because Anthea's illustration is in it that's why! If you flick to page 222 it is next to the Lucette section. So talented. Garance, who?
ONTO THE SHOES!
First of all, I would just like to say that Burberry is bang-on generally, like, all the time. But their Ready to Wear Spring/Summer 2010 collection knocked it out of the park. Especially re: shoes. So here they are, my fave Burberry shoes of the moment. Some may be from another season. Who cares. Feast your eyes: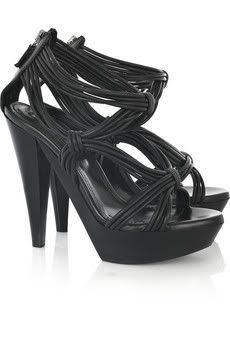 Also: note the socks. Love love love it. I want those socks.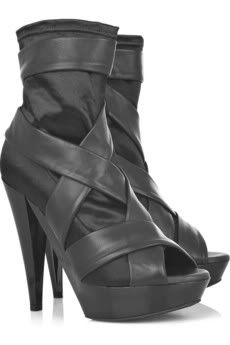 Love these...
but I think they're better in cream.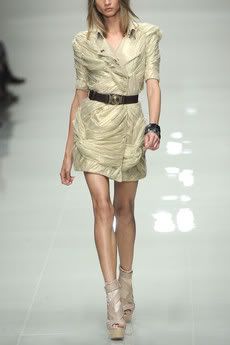 See runway for reference.
Not sure where these are from. Don't care. They are Burberry. They are divine.
Pretty satin Burberry flats! These would not last on my feet for 20 seconds. They're too satiny and pretty. But I would stare at them a lot.
Okay, onto the wedges. FYI: I used to HATE wedges. I detested them with a passion (as, indeed, the word 'detest' would imply). But then a change happened. I think it started with these...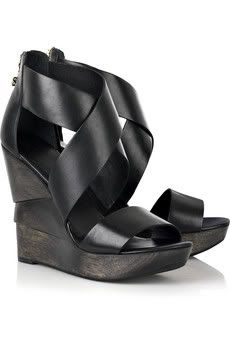 These Diane von Furstenberg babies changed my life.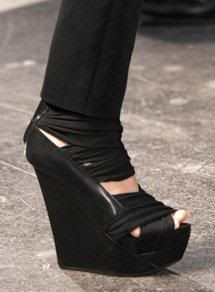 I'm pretty sure these are Givenchy. I'm pretty sure I love them.
Ditto!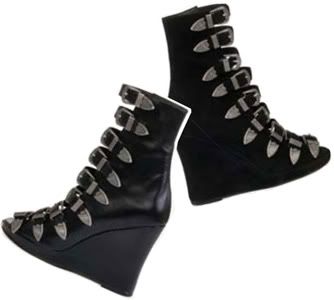 Chloe Sevigny for Opening Ceremony western buckle wedges.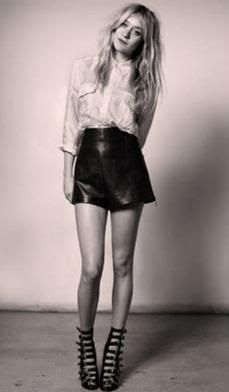 Chloe Sevigny IN Opening Ceremony western buckle wedges.
These Elizabeth and James ones are ok. But the quest for gorgeous, fuck-off amazing, badass, affordable wedges continues. Holla at me if you find some.
Can we show Nicholas Kirkwood some love now please? Sculptural, beautiful, art.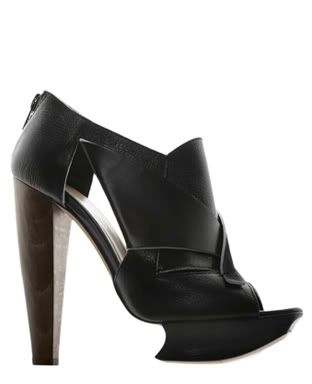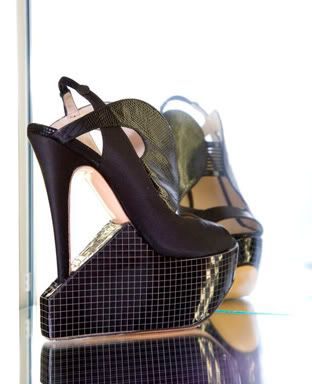 OH WAIT AND LOOK AT THESE FUCK-OFF AWESOME FLATS: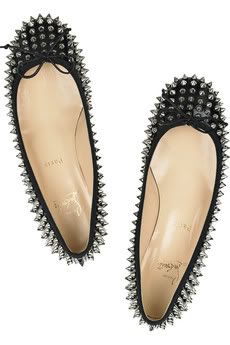 no-one would step on your toes in theeeese
Next on the agenda: in addition to perfect wedges I have to find the perfect mythical bag. Hot, slouchy tote, not very expensive, not a shitty copy of a designer bag. Doooooooomed.