However, since Ryan Gosling hasn't met me yet and had the chance to fall in love with me, that's probably not going to happen any time soon. That's ok, I will settle for critiquing it from my couch (for now). This year, as they have been for a while, the Oscars were pretty underwhelming. Oh well, I had some thoughts anyway.
- I did SO love Colin Firth being introduced by Julianne Moore. Two of my favourite people on the planet, looking divine and gorgeous and godlike. Mmmm.
- Oprah was there! That was exciting.
- FARRAH FAWCETT AND BEA ARTHUR WERE LEFT OUT OF THE MEMORIAL SEGMENT!!! WHAT? WHAT! TRAVESTY.
- Peter Sarsgaard kinda surprised me. Holy craps. When he was talking about Carey Mulligan (more on her later) I sort of swooned. Is it just me, or is he dreamy? When did he get all dreamy? It must have been a while ago because he did manage to score the slammin Maggie G. Speaking of, let's move onto the clothes...
Not as good as the Lanvin from last year, but she looks divine. It's a brave lady that can wear bold prints to the Oscars. And a seriously confident, sexy one that can pull it off.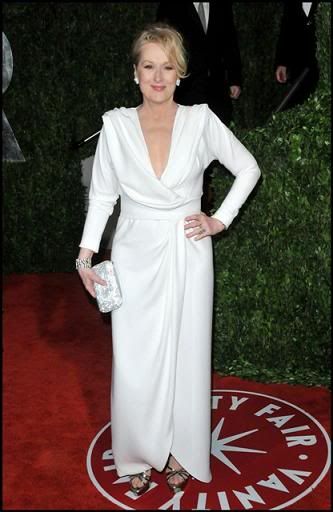 Meryl hit it out of the park in this white Balenciaga creation. She is Meryl and can do what she wants, obviously, but she blew my mind last night. Good job.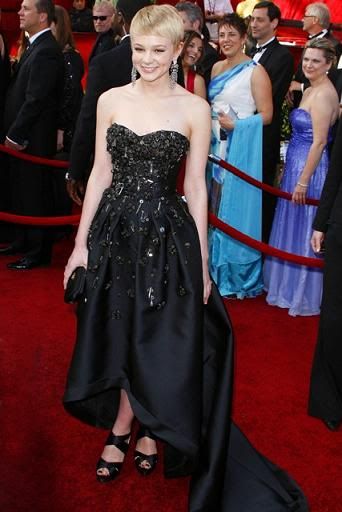 NEW CRUSH ALERT. I think it's the pixie cut that finally pushed me over the edge with Carey Mulligan. Divine, and oh so cute. However I will say this: I still sometimes can't tell her apart with Mia Wasikowska. And she needs to let the mullet dresses alone now, she already did it at the BAFTAs in Vionnet.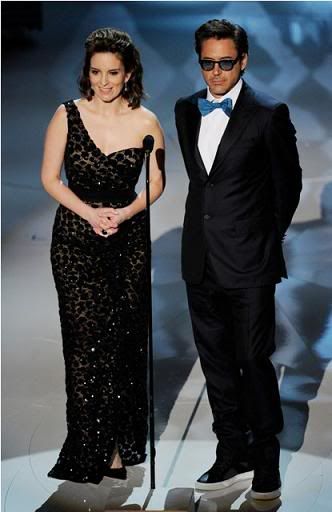 BEST PRESENTERS, hands down. Tina Fey and RDJ. Could it get any better than that? It even rhymes. Also, much MUCH better dress than the Golden Globes. She looks gooorgeous, despite the hair.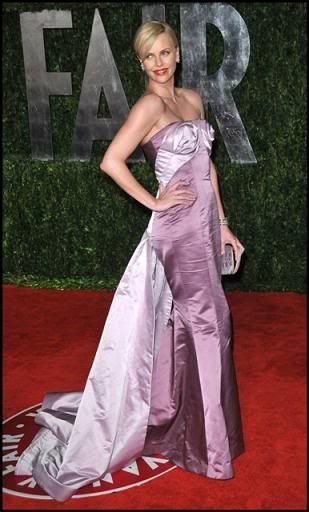 VOM. Even in Dior, this is a FAIL.
BLERGH. Hate her. I'm not sure why the hate has come on so intense for Miss Saldana. I mean, I liked her in Crossroads and even Centre Stage was ok, but now everything about her shits me. The sad half-closed eyes, the weird shaped mouth that always looks contrived (I don't know how, it just does), the forced smile, the disgusting dress...I just can't with her.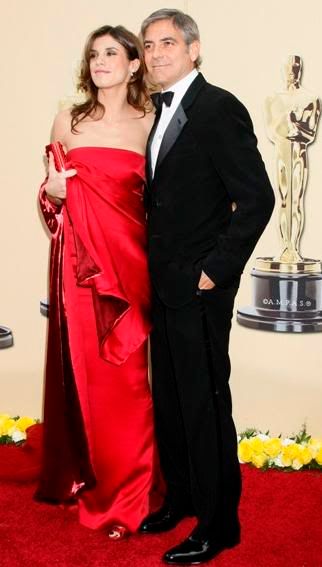 Another vom. Elisabetta Canalis is disgusting. George - I don't get it. YOU. ARE. GEORGE. CLOONEY. She is just vile on so many levels. The crap arm tattoo, the trash red dress, eugh. Georgie also bought his bitchface last night (not Elisabetta, his actual face). He didn't seem as smiley and jokey. Sad. Lose the bitchface, both of em.
Diane Kruger, always so much love. Love the Chanel, love the face, love everything.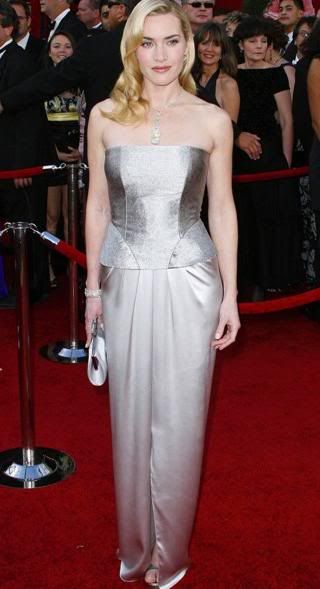 Ok I know it's Kate Winslet and so this is like blasphemy but whatever. Hated it. Hate the dress, the makeup is boring. I know she wasn't nominated so she wasn't dressing to be the star of the night, but still. I didn't even like her dress last year. I could see her bra through it. Step it up lady, because you are so fierce.
First female to win Best Director! I don't care if she deserved it or not, I just didn't want James Cameron to win. Plus she looks AMAZING. Holy crap, she is keeping that shit tight. Gorgeous.
Slightly surprised to see Nicole Richie there, but I adore her nonetheless. She looks stunning and happy and I love how much she has seemingly changed since being BFFs with The STD Whore.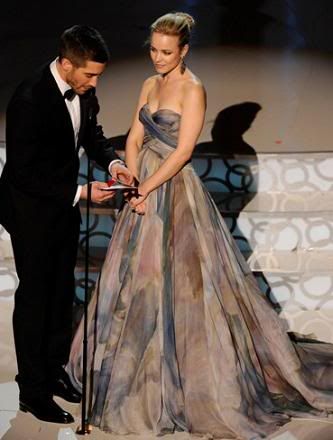 Rachel can do no wrong in my eyes. And hey, if she can't be with Ryan Gosling, I am happy for this partnership to eventuate. Look how good they look together.
Awe. Sandra Bullock. Another lady that never makes me question my love for her. She won a Razzie on the weekend, and an Oscar last night. Sweet, humble, and always funny, I will always adore her. She looked beautiful, she was humble, and that was just at the Razzies. So. Much. Love. Congrats to her xx
Oh and this is her Razzie speech, how amazing is she?